Looking for a unique present for the pet lover in your life this Christmas? Whether we have had to help with their cremation or not, we offer a great selection of gift ideas for pet lovers. Many of our products can be personalised for an extra special touch.
For many people, the holiday season can enhance the feelings of loss so these small reminders could help pet owners to remember the bond they shared.
Memorial jewellery is a lovely way to keep a small reminder of your pet close at all times. Whether you want to use a fur clipping, paw print or small amount of ashes, we stock a range of jewellery to suit every taste. This includes Murano glass, miniature urns, and silver paw print jewellery.
These candleholders transform photos of your pet into unique tealight holders made using a 3D printer. Once the candle is lit the design is beautifully illuminated for all to enjoy. You can include one or more photos and add your own words.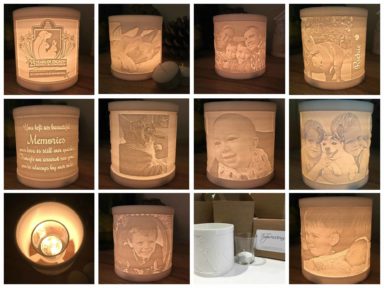 These slates and stones make beautiful memorials to your pet, but some of them are also great decor items for your home. We especially love the hanging and free-standing slates. Customise them with your own text, images and even unique paw prints – don't worry if you don't have one as you can take your own at home using our paw print kit.
Turn the pet photos on your phone into unique works of art with these custom pet portraits. Choose from a range of styles including cartoon, watercolour and memorial and add a frame for ready-to-display design. The finished design is professionally printed on high-quality paper or canvas in your choice of size – from mini desktop prints to statement wall hangings.
For the avid reader amongst your friends or family why not treat them to a new book? Some of these deal with pet bereavement, but we also stock books about the bond between humans and animals and creating a dog-friendly garden.
Personalised Rainbow Bridge Tree Decoration
This beautiful tree decoration is made of mirrored acrylic so it really catches the light – perfect for hanging on your Christmas tree. It measures 10x10cm and features a laser engraved rainbow design as well as the text "If only the rainbow bridge had visiting hours". You can also have up to 3 paw prints added, each with a pets name of up to 7 characters.
We hope we've helped you with our gift ideas for pet lovers. As many items are bespoke they may have a longer delivery time than others, please check the 'last order' dates on the product pages in the shop or get in touch on 01252 844572 or email us at enquiries@dignitypetcrem.co.uk.