Pet Cremation Services at Dignity Pet Crematorium
We offer a range of pet cremation services to suit you. It is very important to us that you know that whatever option you choose, your pet is carefully handled at all times and will be cremated ON ITS OWN. An ashes certificate is sealed in with your pet's ashes and an In Memoriam card is given back to you from us.
We only carry out GENUINE INDIVIDUAL CREMATIONS and do not take part in mass incineration or the disposal of clinical waste.
We have a variety of options for you to choose from and can help personalise our service to suit your needs. Once you have decided what you would like for your pet's ashes you can telephone us to talk through everything. We can then arrange the return of your pet's ashes to you.
We suggest that you read the information in the left hand links before proceeding to the Caskets and Urns page.
Our promise to you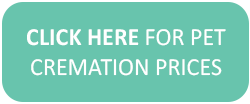 Whilst your pet is in our care we promise that they will be handled gently and carefully by us at all times. They will be placed into a Dignity Pet Bed by us and will be treated with the respect they deserve whether we collect them from your home or veterinary practice.
Please click on left-hand navigation for further information.
We can take a fur clipping free of charge or a paw imprint prior to carrying out your pet's cremation. Click here for more details.