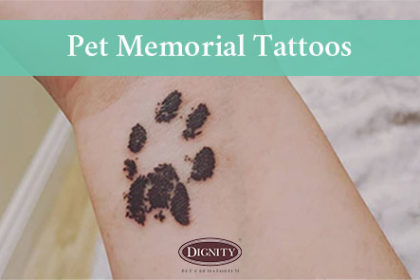 There are many ways to remember a lost pet. You can create a memorial in your home or garden, order a piece of memorial jewellery or even have their bedding turned into an adorable soft toy. But have you ever thought about honouring them with a pet memorial tattoo? This is the latest craze that's gaining popularity amongst pet owners who want a permanent reminder of their pet.
Memorial tattoos are nothing new, having become popular in America during the Civil War. In fact ,Martin Hildebrandt, credited with opening the first tattoo shop in New York in 1846, spent much of his time during the war giving his fellow soldiers memorial tattoos. Along with the military, the navy also popularised memorial tattoos – like the classic sailor-style heart with a tribute to 'mom' that's become popular again in recent years. 
Pet Memorial Tattoos
No longer favoured by soldiers or those who have been to prison, tattoos are now a pretty common sight in all walks of life. In fact, one in five of us in the UK have a tattoo, and for those aged 25-39 that number rises to a third. While trends come and go in the tattoo world, it seems that pet memorial tattoos are here to stay. Even celebrities like Miley Cyrus, Jennifer Aniston and Joe Jonas have paid tribute to their lost pets through tattooed memorials.
Farnborough based tattoo artist Johnny Somersett says he's seen an increase in people wanting to dedicate space on their skin to their pets. "More people are asking for tattoos in memory of their pet – some people prefer a portrait and others have their pet's paw print" says Johnny, who has his own cats faces tattooed across one of his arms. "I think the connection we have with our pet's is so special, people are looking for a way to hold on to that, even after they're gone."
It's certainly something we see a lot here at Dignity, as we offer to take your pet's paw print for you prior to their individual cremation. Dignity client Kayleigh said she got her cat's paw print turned into her very first tattoo "as soon as I got Binx home".
Dignity team member Emma decided to pay tribute to her cats Buddy and Casper last year, saying she "wanted something to remember them by". Emma had both cats' paw prints inked onto her leg, opting for the unedited versions as they seemed "more like them". Before getting the tattoos she'd been thinking about it for years, eventually going ahead around 7 months after losing Buddy. "They didn't hurt" she adds, saying that she would definitely get another in the future.
How do I get my pet's paw print for a tattoo?
If your pet has sadly passed away and you have decided to have them cremated here at Dignity, we can take a paw print impression for you. You can then choose to have the unedited paw print, a tidied up version, or a solid black image of the paw print. Alternatively, you can buy a paw print kit from us and take the impression at home. It can be used on cats, dogs, small animals and even for babies hand or footprints! You can then take your paw print to your tattoo artist of choice to have it permanently inked into your skin.
Do you have a pet memorial tattoo? Or are you considering getting one? We'd love to hear more in the comments.