Remembering your pet is an important part of the grieving process and there are many different ways you can do this. From creating a tribute to them in your home or garden, to holding a ceremony, choosing how you remember them is a deeply personal decision. One way to keep them close is by wearing a piece of pet memorial jewellery.
Memorial jewellery is not a new concept and was popularised by the Victorians who favoured more macabre items featuring morbid imagery. Nowadays memorial jewellery is more subtle and comes in a wide variety of styles.
Pet memorial jewellery is available in several different forms to suit your tastes and preferences. There are miniature urn pendants, beautiful glass made using ashes, and bespoke paw print pieces. We have found that our clients love the close and tangible bond that pet memorial jewellery brings them. Our range has evolved over the years, so here we're going to outline some of the different types available.

Paw Print Jewellery
Our range of silver paw print jewellery is both subtle and stylish. Your pets actual paw print, which can be taken here at Dignity or at home using one of our paw print kits, will be cleaned up and resized so that it can be engraved onto a piece of jewellery. Engraved text such as a name or dates can also be added for an extra personal touch.
You can choose from a necklace pendant in a range of shapes and sizes, a key ring, charm or even cufflinks. These make fantastic gifts for pet lovers whether their pet has passed away or not.
See the full range of pet paw print jewellery here.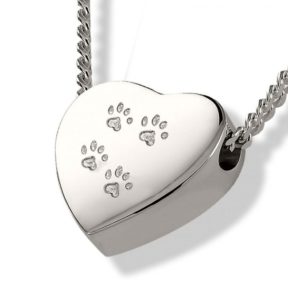 Pet Ashes Urn Jewellery
Keep a small amount of your pets ashes or fur close with a miniature urn pendant. These tiny urns are made of sterling silver so they are both durable and attractive. Pendants for necklaces come in a wide range of shapes including hearts, crosses and horseshoes. We also stock charms than can be worn on a Pandora style bracelet.
See the full range of miniature urn jewellery here.
See You Pet Ashes Jewellery
See You jewellery combines a small amount of your pets ashes with a coloured resin to create a beautiful finished product. There are a range of products available including pendants, rings, charms and bracelets. You can choose from 10 different resin colours to create your unique piece of jewellery.
See the full range of See You jewellery here.

Alba Rose Pet Ashes Jewellery
Alba Rose combine your pet's ashes with stunning Murano glass to create amazing pieces of jewellery. With a range of glass colours available, these stylish pieces allow you to pay tribute to your pet every day.
Each Alba Rose item is available in your choice of metal, for example rose gold or silver, with 12 beautiful glass colours to pick from. The range includes necklaces, rings, earrings and beads for charm bracelets and there is a style to suit everyone's taste.
See the full range of Alba Rose jewellery here.

Horsehair Jewellery
We also offer a wide range of jewellery made of your horse's mane or tail hair including bracelets, necklaces and keyrings. Each piece combines a sterling silver chain and/or charm with perfectly plaited horsehair to create a truly unique tribute to your horse or pony.
Only a small amount of horsehair is needed to create each piece, see individual product descriptions for more detailed information.
See the full range of horsehair jewellery here.
As you can see, there are many different styles of pet memorial jewellery available. If you'd like to pay tribute to your pet with a piece of jewellery but not sure which type our team can talk you through the options. Give us a call on 01252 844572 or take a look at the full range of pet memorial jewellery online here.