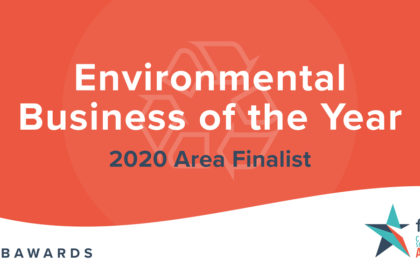 Dignity Pet Crematorium has been shortlisted as a finalist in the FSB Celebrating Small Business Awards. We're excited to announce the news that we have been nominated in the South East region's Environmental Business of the Year award thanks to our efforts to make the business as environmentally friendly as possible.
We have solar panels on the roof of the main building to reduce the carbon footprint of the business and the team are continually looking for new ways to recycle waste materials produced at the crematorium. This includes metal parts of collars and implants that survive the cremation process, which are sent to an innovative company called Orthometals who recycle the materials and donate a proportion of the profits to charity.
The natural surroundings, including our grade 2 listed brick kiln in the grounds, are also really important us. Memorial bird boxes, bird feeders, log piles and wild flowers feature within our gardens to encourage bees and insects, and all paths are made from wood chippings from fallen trees. There is even a dog sensory area with a selection of different herbs and plants.
Kevin Spurgeon, owner of Dignity Pet Crematorium, was even awarded an honorary fellowship at the University of Winchester in 2015 for the ethical way in which the business is run. He says: "We're really excited to be nominated for this award honouring the efforts we are making to reduce our impact on the environment. I am passionate about making the business as eco-friendly as possible, not only do we use solar energy to power the premises, but we do as much as possible to support our natural surroundings including encouraging natural wildlife and releasing rehabilitated hedgehogs."
Please keep your fingers crossed for us in the final, which will be held on 26th March 2020. You can read more about the other nominees here.