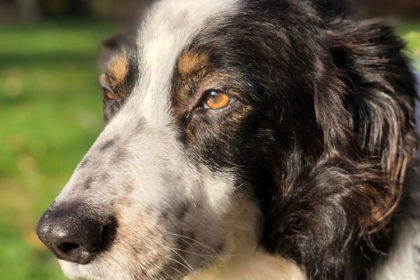 Singer Imelda May has toured the world, performing everywhere from Glastonbury festival to the Royal Albert Hall. Her beloved dog, Alfie, has been alongside her for these performances for over 13 years – even gaining his very own access all areas pass to many venues that had previously not allowed dogs.
When Alfie passed away she wanted the world to know about her special companion and all of the adventures they have had together. Along with three songs inspired by Alfie, she has written this moving tribute which we are honoured to be able to share with you.
My dearest Alfie,
You have been the best companion from the 1st day we met when you were 6 months old until today at 13 years and 4 months. You've enchanted everyone you've met with your gentle charm, contagious joyous charisma and sweet soul. So much so you've earned the nickname 'The Gent'
You've had an extraordinary life touring all over the place on the tour bus and you came with us to hundreds of gigs. You had your own AAA (access all areas) laminate pass and wristbands for my gigs, Jools Holland's, Jeff Beck's, Glastonbury, T in the Park etc etc..and ran around so many festivals and theatres including The Royal Albert Hall who waived their 'Strictly No Dogs' policy just for you as you were part of the family.
I've had tens of thousands of messages from people saddened at your passing and wishing you well on your next journey, such was the love for you. 
You've been in music videos, recordings and regularly at recording, tv and radio studios. Including Abbey Road and BBC. Everyone from Terry Wogan to Shakira fell for you. Jeff and Sandra Beck love you so much they now have your son Paddy Buster in your memory. 
7 years ago you saved our newborn Violet's life with your unwavering insistence to alert my attention to the fact she had accidentally pulled a plastic bag over her blue face. We owe you Everything for that! You are a true hero!!!!
But more than anything else you were our family, our love, our protector. 
You were my shadow, always looking out for me. You stayed with me through a tough labour and all kinds of life's trials. Once protecting me from a dressing room intruder and even a very angry goat! 
You were a teacher to younger dogs by your tolerance and patience. What a good example.
After being the fastest ball catcher/squirrel chaser around I'm glad you got to have a lovely retirement in your old age. Sleeping all day and snoring all night. You certainly deserved it. 
You've been the most amazing companion, friend, brother, band member, goalie and other half. You're the true love of our lives. 
You will never be forgotten as you are and will be in our hearts Always.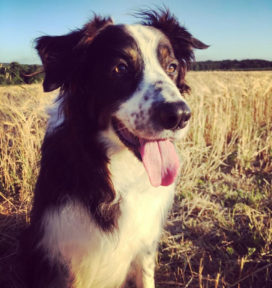 We love you so, so much. 
Thank you for being you. 
See you on the other side Alf. 
Love, Imelda, Darrel, Violet, Niall, Katie, Michaela, Jude, Peta, Inca, Claire, Tracey, Hayley, Mabel, Ros, Mike, Jack, Dan (hook vet) all the Clabby family, Higham family, Wright, Becks, all your music community, all your human and dog friends, family and neighbours. 
On this your final curtain call, you are not alone, you have a virtual huge applause and standing ovation. Now hold your head high and take your bow. XXXXXXXXXXXXX
Our team will be looking after Alfie with the same care and respect we treat every pet.
If you feel you need support following the loss of your pet please take a look at the pet bereavement support services available to you.