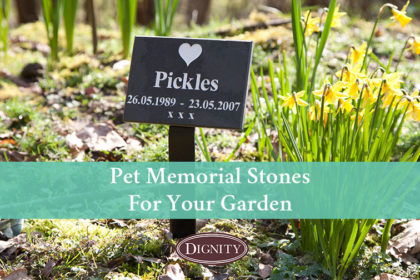 Can pet memorial stones for your garden help remember them and ease the pain? Immediately after losing a pet even the sight of their food bowl or collar can be too much to bear. But, with time, little reminders become more welcome and eventually bring back fond memories. While we know that nothing can replace a lost pet, creating a beautiful memorial to them with a pet memorial stone can sometimes make you feel better.
Many people like to do this in their garden, either where their pet is buried/scattered or in a favourite spot of theirs. At Dignity, we have many of these such memorials throughout our grounds marking the spots where pets ashes are interred or scattered. There's something calming and restorative about being outdoors in a natural space, and it can even help when you are grieving, which is why many people choose to create a memorial to their using plants and natural materials.
We can create a personalised pet memorial stone for you – keep reading to find out which option is best for you.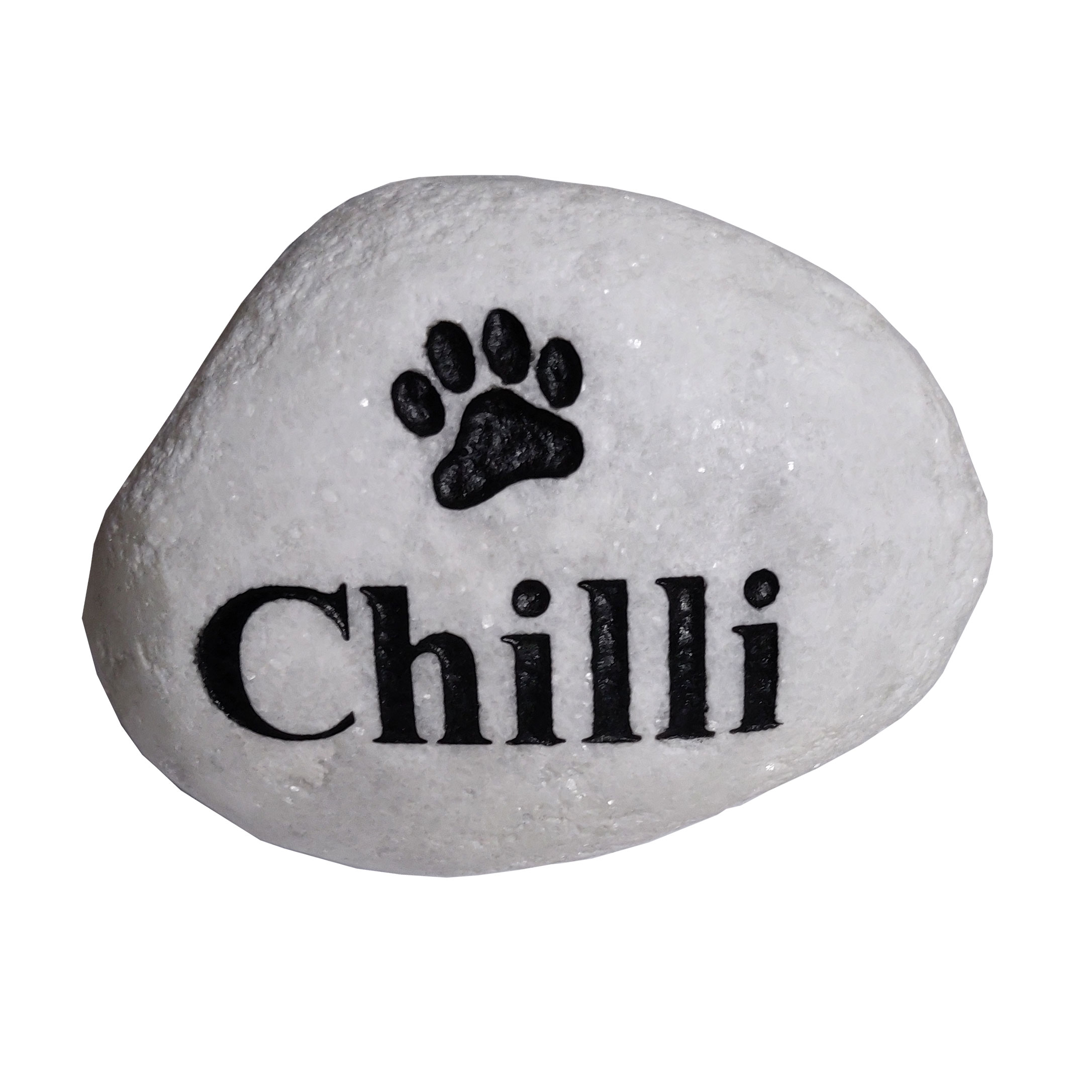 This pebble is a beautiful and natural way to remember your pet, it can be kept inside or placed in your garden to mark a special spot. The pebbles are sourced in Scotland and each is approximately 18cm wide, of course being a natural product does mean that the size, colour and shape will vary for each product. Like any natural stone product, if used outdoors there could be some fading or natural discolouration.
Each stone can be personalised with text and a motif, which will be sand-blast engraved into the stone and then hand painted in black by skilled craftsmen. You can choose from two font options; classic Times New Roman or the more modern Courgette. We can fit a maximum of 2 lines on the pebble along with a motif, maximum 12 characters per line including spaces.
If used outside they may fade or discolour. The memorial pebble is approximately 18cm wide and will vary in shape and size.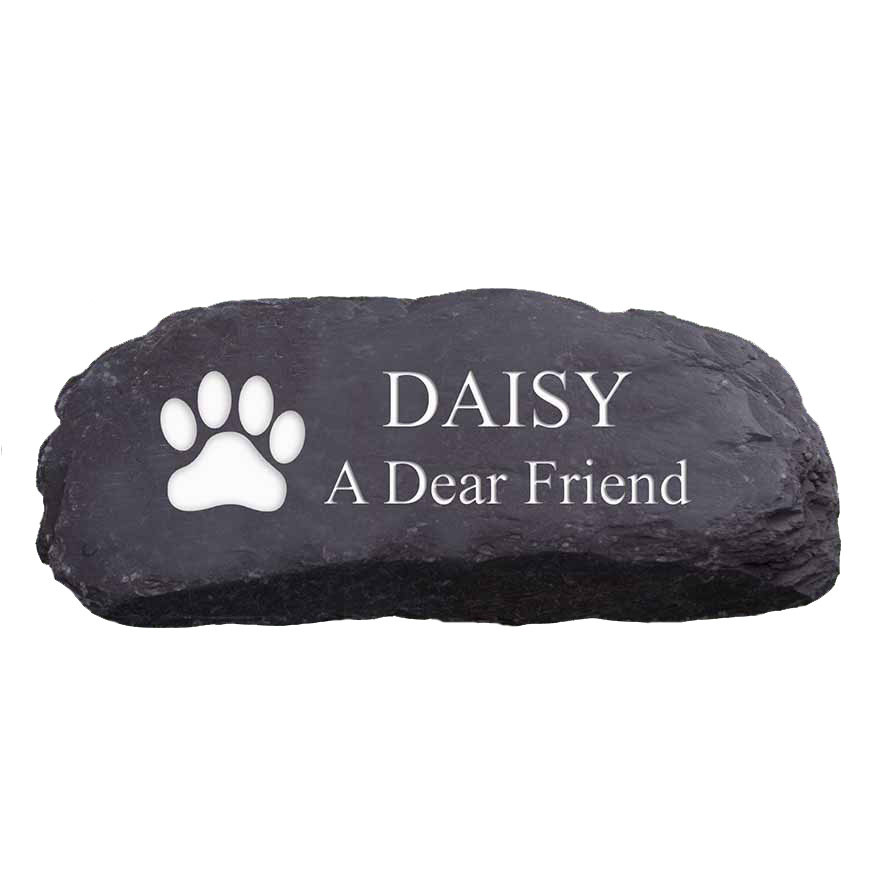 The Welsh Slate Paddlestone is a great alternative to the pebble for a more subtle finish. Again these stones can be used indoors but make beautiful pet gravestones to mark the spot where your pet's remains or ashes have been buried or scattered.
The Paddlestone can be personalised with your pet's name and a date or phrase, as well as a motif from a selection of popular designs including dogs, cats, hearts and paw prints. The engraving is available in four colour options, white, cream gold or silver, and your choice of Times New Roman or Courgette fonts.
These beautiful pet memorial stones are available in two sizes; the small is approximately 15x24cm and the large measures 18x33cm. As this is a natural product please be aware that the stones will vary in colour, size and shape.
These Slate Memorial Markers are more like a traditional headstone or gravestone for your pet. The markers are available in five different sizes, and depending on which size you choose we can engrave several lines of text as well as a motif or even a photograph of your pet. The Slate Memorial Marker comes with a stake for you to fix it into the ground. Sizes available are:
5.5 x 4″
9 x 9″
12 x 9″
12 x 12″
19 x 12″
If you have buried your pet or their ashes in your garden you can mark the spot with a beautiful pet gravestone. These grave markers are personalisable with your pet's name and other information, and some can even include an engraved photo. Choose from a range of sizes and stone materials including granite, black slate and green slate.
We especially love this new Rainbow Bridge design gravestone.
If you are looking to hold a ceremony at home when you scatter or bury your pet, why not include one of these lovely little Blooming Remembrance Hearts? Each heart is made of natural biodegradable fibres and filled with seeds that will grow into wild flowers – creating a beautiful outdoor tribute to your pet.
Need any more information about any of the products mentioned in this post? Give us a call on 01252 844572 or email enquiries@dignitypetcrem.co.uk.