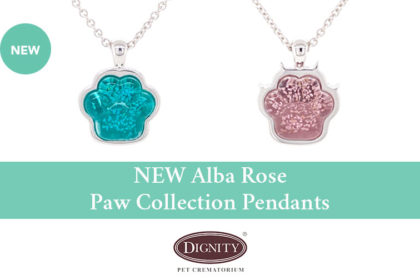 We are really excited to tell you about the launch of these brand new products from Alba Rose. The Paws Collection Pendant ashes paw print necklaces have been designed especially for pet lovers, with your choice of 'soft' paw print or one with adorable little claws.
Alba Rose create beautiful cremation jewellery by combining a small amount of your pet's ashes with Murano glass, which is then placed into a piece of jewellery. The glass stone is harder than metal, giving you a life-long piece of jewellery you can cherish forever. There are 12 different glass colours to choose from, so you can pick something that's special to you or your pet. The glass colours available are:

Alba Rose says "Our talented goldsmiths and glassmakers are dedicated to crafting the highest quality cremation jewellery with the upmost care and attention to detail. Each piece is made as if it were being made for a member of our own family, the quality is second to none.
We are excited to launch our new paw pendants, made specifically for the remembrance of our furry friends and love ones. Suspending ashes in a paw shaped glass, our new paw pendants are a fitting tribute to a beloved pet."

Only a spoonful of your pet's ashes are needed to create the jewellery, which is then encased within the Murano glass to form a beautifully subtle gem-like appearance. The ashes can be seen within the glass, which is why each piece of jewellery is totally unique to you.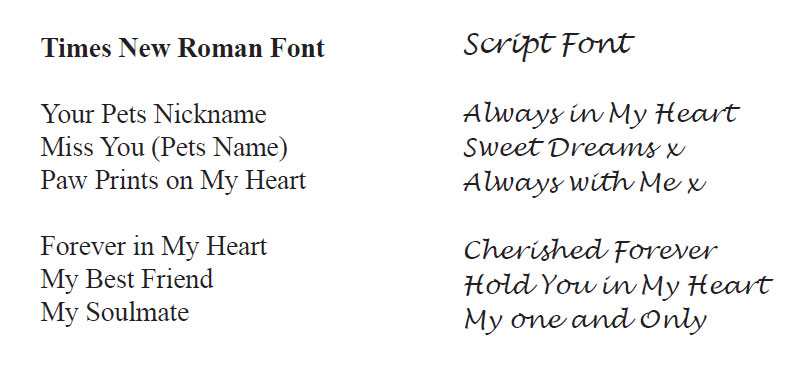 Each pendant can also be engraved with a short phrase or name, in your choice of Times New Roman or Script font. Here are some examples of popular engraving choices.
To celebrate the launch of the Paws Collection pendants, Alba Rose are giving us 10% off the paw print necklaces until the end of March. The discount is automatically applied online.
You can order an Alba Rose Paws Collection Pendant here, or browse the full range of Alba Rose Ashes jewellery.