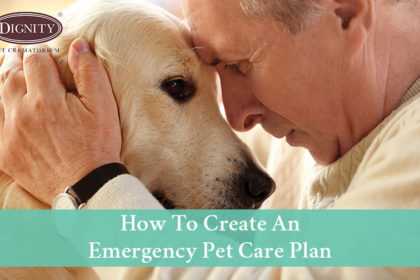 As the number of infected with COVID-19 continues to rise, the RSPCA have advised pet owners to create an emergency pet care plan should the worst happen. But what exactly is an emergency pet care plan and how do you go about creating one? We're going to go through it in this blog so that you have peace of mind that your pets will be looked after.
What is an emergency pet care plan
An emergency pet care plan is essentially a list of things you want to happen to your pets should you no longer be able to care for them. The RSPCA says "Although no one wants to think about the worst happening, in these strange and challenging times it's important to consider what would happen to our pets if we become ill, are hospitalised, or pass away."
Think about the care your pets currently require to start to build your plan. Is there someone you trust who could take over the care of your pet and provide this in your absence? Is there anything important someone would need to know about your pet? Your plan could be used in the short term, for example if you need to stay in hospital, or to find a new home for your pet should the worst happen.
How to create an emergency pet care plan
Make a list of everything your pet needs; what food they need/like, what kind of care do they need, are they on any medication, who is their registered vet.
Identify who could take over their care if needed, speak to them about this and make sure they are comfortable with this new responsibility should it be required.
If you do not have someone who could take on your pet, either short term or for the rest of their life, register for one of the below services to ensure there is someone to take care of them.
Consider including some money in your will towards the care of your pet.
Put all of this information into you emergency pet care plan, be as detailed as you can.
Include a copy of your plan with your will and make sure the executor is aware of this.
Place a sign/poster on your door or somewhere in your home so someone knows that there are pets inside that may need help.
Services you can include in your emergency pet care plan
Dignity Pet Crematorium provide a Letter of Wishes which you can use to ensure your pet gets the send off that you want for them when they pass away. You can also choose to set up a Pre-Payment Plan for one or several pets to cover the cost of their individual cremation. You also have the option to have your own ashes scattered alongside your pet in our Gardens of Remembrance or Natural Woodlands area.
Cats Protection offer a free service called Cat Guardians which gives owners peace of mind that their cats will be cared for should the worst happen. "Individuals can plan for their cats' future so that in the event of their death, we'll take their cats in to one of our branches or centres and try to find them a loving new home. Cats Protection promises never to put a healthy cat to sleep, so you can feel assured that we will give your feline friend all the love and care they need until we can find them the new home they deserve."
Dogs Trust offer a free Canine Care Card service that ensures your dog will be cared for should you pass away before them. They will "arrange to bring your dog/s to our nearest rehoming centre. Upon arrival they will be examined by our expert vet and cared for by our dedicated, trained staff.  We will find your dog/s new owners whose lifestyle and experience match their needs. But if for any reason your dog/s cannot be rehomed, rest assured Dogs Trust never puts down a healthy dog, so we will look after them for the rest of their lives."
The RSPCA have a Home for Life service that means your pet will be looked after if the worst happens to you. They provide you information to include in your will and once your pet is in their care they will do all they "can to make sure your pet is happy and healthy – including all necessary vaccinations and health checks – before starting the search for a new home. Any potential new owners will be thoroughly assessed and interviewed to check they can provide a loving home." They also have this excellent free printable form & poster which can be displayed on your front door and fridge.
If you have any questions about our Letter of Wishes or Pre-Payment Plan services please give us a call on 01252 844572 or email enquiries@dignitypetcrem.co.uk.