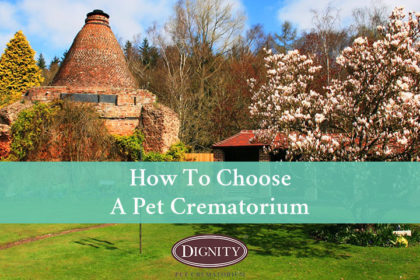 Immediately after losing a pet you may feel overwhelmed by grief which can affect your decision making process. Whether it's at home or at a vet, it's your choice what happens to them.  In this blog we're going to talk about how to choose a pet crematorium.
Trusting your pets final journey with someone else can be difficult, particularly if you have had a close relationship. Finding the right people can make the process a little easier. Our team aim to treat each pet and owner as an individual and never view them as "just a pet".
Why choose pet cremation
We understand that cremation is not the right choice for everyone, so what are your options?
Home burial – if you have a garden you can choose to bury your pet at home. You can bury your pet on your own land, but if you rent you will need to get your landlords permission. We offer a range of coffins and grave markers for those who prefer to bury their pet at home.
Communal cremation – this is a service often offered by vets. Your pet will normally be placed into a plastic bag and stored in a freezer or cold room until it can be collected – usually once a week. Your pet will be cremated alongside other animals and you will not be able to get their ashes back.
Individual cremation – your pet will be cremated on its own and you can choose to have their ashes back. At Dignity we place each pet into their own bed until they are ready to be cremated.
What to look out for
If you have decided to have your pet cremated you shouldn't be afraid to ask questions. How will your pet be stored and transported? What happens to their ashes? Are there any memorial options available? These are all important concerns that your vet or crematorium should be able to answer.
Most good pet crematoriums will be happy for you to have a look around their facilities and provide you with a guide to their working practices. If you have any concerns you should raise these and make sure you are happy with their answers.
The Association of Private Pet Cemeteries & Crematoria
The APPCC is an independent body who set standards for the pet funeral industry through their Code of Practice. Pet crematoria are controlled under the Animal By-Product Regulations which essentially classes them as 'waste', meaning there are no specific laws when it comes to pet cremation.
Each APPCC member is independently inspected and approved so you know you can trust them with your pet. For further information you can read their guide to why you should use an APPCC member.
Read genuine customer reviews
As with most services, you should be able to find customer feedback for pet crematoriums online. It's important to read genuine reviews to give you peace of mind about using their services.
We collect feedback from our customers on Google, FreeIndex, Facebook and Trustpilot to ensure we are meeting our customers expectations. Click here to read genuine customer reviews of Dignity Pet Crematorium.
How to choose a pet crematorium
Now you know what to look out for you can hopefully find respectful and caring service near to you. Here's a short checklist of things you should do to help you choose a pet crematorium:
Decide which type of pet cremation service you want
Research a pet crematorium near to you
Find out what services they offer, including pre-cremation options and memorials
Check if they are a member of the APPCC
Read reviews from their customers
Get in touch and ask any questions you have
If you have any questions about using Dignity Pet Crematorium you can give our friendly team a call on 01252 844572 or use the chat box on our website.