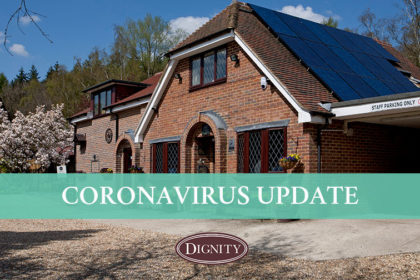 Following the most recent government announcement regarding the Coronavirus we want to update everyone on what we are doing to help prevent the spread, whilst also maintaining our service and proactively reducing the risk of infection to our staff. The health and safety of our team and clients is a priority for us, but we also hope to continue to provide a caring and dignified service to pet owners and vets during this time. Here's what we are doing currently:
• Additional hand sanitisers have been installed around the building.
• Clients who are collecting ashes are asked to remain in their car and we will bring them out to you. Alternatively, we can arrange to return your pet's ashes via courier.
• We would prefer not to accept cash payments at this time but can take credit or debit card payments.
• If you feel unwell or are self-isolating, we can collect your pet from your vet instead.
• Drivers will be wearing gloves when collecting pets from homes and veterinary practices.
• Farewell rooms will be thoroughly cleaned between appointments.
• We have a reduced number of Same Day & Attended appointments available.
• No more than two people should be in attendance to say goodbye to your pet at Dignity.
• If you are planning to visit the Natural Woodlands or Gardens of Remembrance, we kindly ask that you delay this until further notice.
We don't know how hard we will be hit by this but we are making plans on a daily basis to enable us to operate some form of service. We will keep our clients updated on a regular basis as the situation develops.
We ask any client who feels unwell or has been told to self-isolate to avoid visiting Dignity. If you have any questions please call us on 01252 844572 to discuss your needs.
If you feel unwell or are exhibiting symptoms please check the NHS Coronavirus advice online.
Here's a useful graphic to help with social distancing