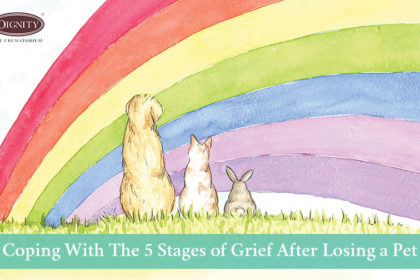 Whether you have suffered a recent bereavement or you are still grieving for a pet lost some time ago, there are things you can do to help yourself or others around you. In this blog post we're going to look at coping with the 5 stages of grief after losing a pet. These tips won't be right for everyone, and if you are struggling to cope with the loss of a pet we urge you to contact a pet bereavement support service – scroll to the bottom of this blog post to find contact details.
What is grief
Grief is the emotional response we feel when something or someone we love is taken away. There are many different forms of grief, and no two people will grieve in the same way.  As pet owners, we often hear responses such as "it was only a pet" or
What are the 5 stages of grief
The concept of the 5 stages of grief was first published by a Swiss-American psychologist called Elisabeth Kübler-Ross in 1969. Her research actually involved terminally ill patients, who she argued go through these five stages when accepting their imminent death. Many medical professionals realised that these 5 stages apply to all types of grief, and so the Kübler-Ross model became the generally accepted standard.
Denial
Anger
Bargaining
Depression
Acceptance
Everyone grieves differently, and there's no hard and fast rule when it comes to experiencing the different stages. In fact, there's no guarantee you will experience them in this order or that will go through every one of these stages. We like to use the 'grief curve' to visualise the journey – it's important to note that you often end up higher on the curve having gone through the grieving process than when you started.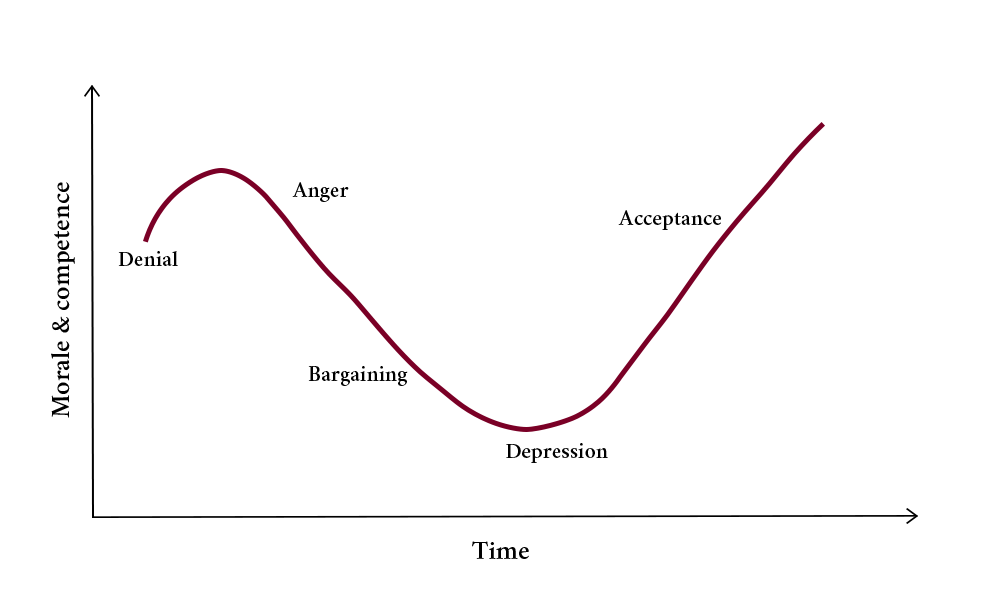 How to cope with grief after losing a pet
Remember, there's no time scale on grief and everyone will experience these stages differently – or not at all.
Denial
The first reaction many of us have following a bereavement is denial. The feeling that this can't possibly be happening. It's important to understand that this is a natural response, and while the loss may not seem real at first we will eventually come to terms with it. Kübler-Ross says "Denial and shock help us to cope and make survival possible. Denial helps us to pace our feelings of grief. As you accept the reality of the loss and start to ask yourself questions, you are unknowingly beginning the healing process."
Anger
During the anger phase of the grieving process it's common to look for someone to blame, whether that is others or yourself. Guilt is a common feeling during this stage, wondering if you have made the right decision or if there was anything you could have done differently. Be open about how you are feeling and those around you will understand your feelings of anger and lashing out. Don't bottle your anger up, but channel it into something like exercise.
Bargaining
The bargaining stage provides us with a temporary escape from our grief and is an important part of the process. You might need to remind yourself that there's nothing you can do to bring your pet back. Talking to family & friends or a support group can help you accept your loss and adjust to the reality of the situation.
Depression
Depression is one of the most visible stages of the grieving process, and it usually occurs once the reality sinks in. Sadness, loss of motivation, difficulty sleeping and a loss of appetite are all common during depression. During this stage it's really important to talk to someone; that could be someone close to you, a medical professional or one of the support services below. No one will judge you for the way you are feeling. You should give yourself permission to feel how you need to feel – but avoid negative behaviour that may be harmful to yourself.
Acceptance
Once you begin to accept the reality of the loss you may feel the depression lifting. Just because you have reached the acceptance stage does not mean you have forgotten your pet, or that you are 'over' the loss. It simple means that you have accepted the situation and can begin to move on. Be patient with yourself and find ways to pay tribute to your pet, this may help give you positive reminders of the time you spent together.
Are you struggling with coping with the 5 stages of grief after losing a pet? If you need to speak to someone about the loss of your pet please use one of the below services.
Blue Cross Pet Bereavement Support Service
Cats Protection Paws to Listen Service
The Ralph Site