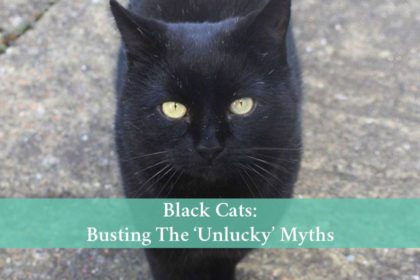 There are many different superstitions that exist all over the world – most of us probably know someone who won't walk under a ladder or open an umbrella indoors. But it might surprise you to find out that a large number of people still think that black cats are unlucky – in fact, so many still hold this belief that charities say it takes on average 13% longer to rehome them.
Luckily charity Cats Protection is determined to put an end to this with their annual National Black Cat Day on 27th October.
Media Officer Zahir White says "There is a lot of myth and superstition surrounding black and black-and-white cats but from our experience, they are simply losing out to the brighter-coloured tabbies, torties and gingers who are much more likely to catch the eye. We hope that Black Cat Appreciation Day prompts people to adopt a monochrome cat because black cats like Calvario and Gem have as much to offer an owner as any other cat."
So, what is it about black or black-and-white cats that puts people off? We're going to look at some of the superstitions, where they come from and if there is any truth to them.
Black Cats are Bad Luck
The most common myth surrounding black cats is that they are bad luck, particularly if one crosses your path. There doesn't seem to be a single origin for these beliefs, however many believe it came from the Celtic legend of Sìth – a large black cat who would steal souls. 
Despite these unfounded myths, there are actually many countries who view black cats as luck. Scottish lore states that a black cat's arrival to your home signifies prosperity, and in Japan black cats are actually considered extremely lucky, especially for single ladies as they supposedly bring many good suitors to their owners.

Black Cats and Witches
For many, the image of a black cat is associated with witches, Satan, Halloween and all things creepy. This is perpetuated by their appearance in popular culture throughout the years – see the Boris Karloff and Béla Lugosi classic The Black Cat, Salem in Sabrina the Teenage Witch or Thackery Binx in Hocus Pocus. It is true that ancient witches, who were more interested in natural remedies and spending time outdoors than casting spells, often had cats as companions. However, there's no reason to believe that black cats now have any connection to witchcraft or the occult.
Black Cats and Sailors
It seems there might actually be more people who view black cats as lucky; sailors looking for a 'ship's cat' to keep the rodents under control would often look for a black cat as it would bring them good luck. Pirates of the 18th Century also thought black cats brought good luck but only if the cat walks away from them.
Black Cats in Ancient Egypt
Cats generally were held in extremely high regard in ancient Egypt thanks to their protection of food and humans from rodents and snakes. Many royal cats wore opulent gold jewellery and the punishments for injuring or killing one were severe. There were also several cat gods such as Bastet; a goddess who is often represented with a human female body topped by a black cats head.
Many mummified cats have been found over the years in Egypt, with some unwilling to leave their beloved cat behind after their own death. While we wouldn't recommend doing this with your own feline friend, you can opt for a modern-day sarcophagus in the form of one of our cat ashes caskets.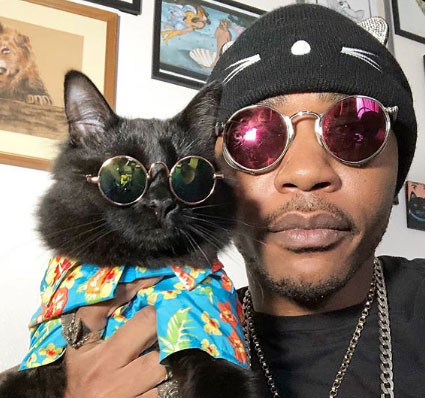 Black Cats are Boring
Unbelievably there are people in the world who think that black cats are 'boring'! Every cat has its own unique personality and to be honest, it's unlikely the black cats are even aware of their fur colour. There has even been some chatter that people are less interested in black cats because they do not show up well in selfies…we think this one from cat rapper Moshow debunks that myth!
As you can see, there are various different superstitions and myths surrounding black cats, but as pet lovers, we can tell you that it is the cat's personality that really counts. We support our local branch of Cats Protection who are also working to dispel the negativity surrounding black cats. Why not give them a helping hand by adopting your very own mini panther, or donating much-needed funds so that they can continue their fantastic work.