Package 1 Home scatter/burial package
Package price from £185
Ideal for scattering or burying your pet's ashes at home. This package includes their ashes placed into either a bamboo scatter pouch, scatter tube, polished metal urn or a casket for burial. Also included is a 6×4" garden marker of your choice and a blooming remembrance heart, which once buried will grow into wild flowers each year.
Please use these prices if you are having your pet's ashes placed into a Scatter Tube. The prices below include the discount and your pet's individual cremation.
Cat/Toy Dog
Small
Medium
Large
XL
Giant
6×4″ Wooden marker no motif

£185
£195
£205
£215
£225
£245
6×4″ Wooden marker with motif or silver, black or white swordmarker with or without photo
£195
£205
£215
£225
£235
£255
5.5×4″ Slate memorial, wording only or with a motif
£200.50
£210.50
£220.50
£230.50
£240.50
£260.50
Please add £25 to include a laser image of your pet to the slate memorial.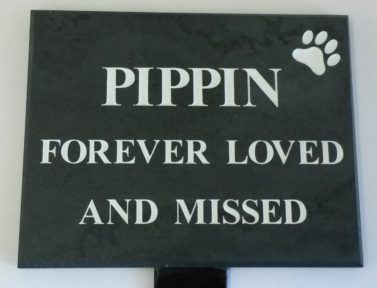 Add £5 to the above prices if having a Scatter Pouch
Add £10 to the above prices if having a Polished Metal Urn
Add £10 to the above prices if having a Casket for Burial
Important Notes
• All our prices include VAT
• Collection and Return Charges are not included in the prices listed below.
• We calculate collection/return costs based on our distance from you or your veterinary surgery. Please contact us for a quotation. You can find more information on our collection page
• There is a one off charge for all home collections in addition to the mileage charge.