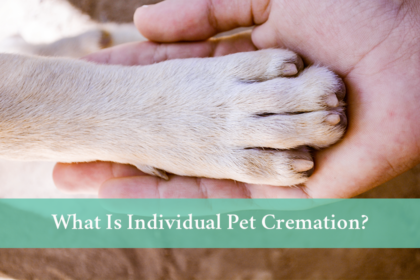 You have probably heard us use the phrase 'individual pet cremation' when talking about the Dignity service, but do you know what that actually means? We're going to run through what an individual pet cremation is, what the alternatives are, and why we choose to offer this type of service.
Dignity was founded in 1992 by pet lovers Barry & Carole Spurgeon after discovering how pets were being treated after their death. Bundled into plastic bags and incinerated along with medical waste was not the ending they wanted for their beloved pets. So they decided to open their very own pet crematorium in the grounds of their family home. Over 25 years later, Dignity is run by their son Kevin along with a team of dedicated pet lovers.
When it comes to what to do when your pet dies you have several options; you can choose to bury them at home, you can let the vet deal with it – which normally means mass cremation, or you can choose an individual pet cremation provider such as Dignity. We've provided an overview of the different pet cremation options below.
Individual Pet Cremation
This type of pet cremation service ensures that your pet is looked after on their own, and means that the ashes you get back will be only theirs. At Dignity we do things a little different to other pet crematoriums, with each pet laying in their own bed until the time comes. We never use body bags or place the pets in a freezer, instead opting for temperature controlled cool rooms.
Mass or Communal Pet Cremation
This is the service offered by many vets and sadly involves cremating several pets at the same time. Mass pet cremation is sometimes referred to as 'communal' pet cremation. Ashes cannot be returned as they cannot be separated, and are therefore buried in a communal grave or scattered in a garden of remembrance. It is worth asking for more information from your vet as some companies will incinerate medical waste alongside the pets.
Do you really get your pet's ashes back?
At Dignity the answer is yes. We are careful to remove all ashes from the chamber after each cremation, so the ashes you receive are only those of your own pet. These are then placed into a plastic bag before being transferred into your urn, casket or scatter container of choice.
We know that it can be a big decision choosing to have your pet cremated, and trusting someone else to look after them in the way you would like can be difficult. Our team are dedicated to ensuring your pet is treated with respect – read more about the Dignity Promise here. Please take a look at some of our genuine customer reviews on FreeIndex or our Facebook page.
If you have any questions about individual pet cremation or any of the other services we offer here at Dignity please give a member of our team a call on 01252 844572 today. If you are already sure you would like to use Dignity you can let your vet know at any time by completing our pet cremation Letter of Wishes.