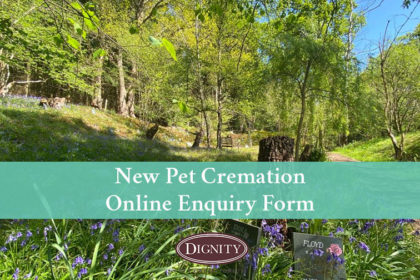 At Dignity we understand that when it comes time to use our services it is usually due to sad circumstances. Sometimes you're just not ready to talk to someone over the phone about losing your pet. Or maybe you want to get in touch when our office is not open. To help with this, we have created a new pet cremation online enquiry form. This form guides you through the basics of using our pet cremation services and takes your initial preferences.
At the moment we are not able to take our service fully online, so a member of our team will need to contact you to go through your wishes via telephone. But by filling out the form, you can get some of the difficult questions out of the way before we do so. You can still change your mind about some of the options you have selected, and we will not go ahead with your pets cremation without getting your permission.
Once we have permission to go ahead with the cremation, we aim to do this within 2 working days. Once the cremation has taken place the ashes will be ready for collection or return within 4 working days. If you opt for a Same Day or Attended service the ashes will be ready on the same day as the cremation.
How to use the Dignity Pet Crematorium online enquiry form
Before filling out the form, we recommend browsing our website to make some decisions about your pets cremation service. Here are some of the things to consider:
If you have any questions our office is open 9am until 5pm Monday to Friday and 9am until 2pm on Saturdays. Give us a call to discuss your needs, or if you are ready you can click here to use our pet cremation online enquiry form now.
Please note: due to the current Coronavirus (COVID-19) outbreak the above services have been temporarily affected. Click here to see how we are adapting our services to keep our staff and clients safe.