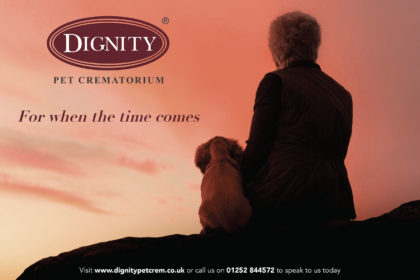 We're really happy to be launching our brand new Dignity Pet Crematorium brochure today. Not only does it contain some stunning new products to help you remember your pet, but it also brings with it new pet cremation costs. This new pricing structure has been designed to make arranging a cremation for your pet clearer and easier.
When the time comes to say goodbye to your beloved pet you will be feeling a wide range of emotions which can affect how you take in information  – in fact, some studies have found that we only retain around 1 in 3 words when grieving. We recommend taking a look at the prices prior to needed our services so that you are prepared.
From Monday 4th November the cremation costs will be totally separate from any urns, keepsakes or memorials, allowing you to choose a range of options that truly suit you. Our staff will never push you to buy additional products but are happy to answer questions about any of them if you want to know more.
New Dignity Pet Cremation Costs
Below are the cremation costs for small animals, if your pet is not listed please do get in touch as we regularly cremate unusual and exotic pets.
| Pet | Cost |
| --- | --- |
| Cat | £150 |
| Rabbit – small | £80 |
| Rabbit – large | £110 |
| Rabbit – giant | £135 |
| Guinea Pig | £80 |
| Hamster | £70 |
| Chicken | £105 |
| Budgie | £70 |
| Parrot | £80 |
To determine the cost of cremation, please use our helpful dog sizing chart. This chart covers mainly pure breeds as per The Kennel Club Breed Standards. If your dog is a mixture of two or more breeds then we can check their weight for you and advise you of the cost accordingly.
| Size | Weight | Cost | Example Breed |
| --- | --- | --- | --- |
| Small | Up to 10kg |  £160 |  Mini Schnauzer, Bichon Frise, Jack Russell Terrier, West Highland White, Mini Dachshund, French Bulldog, Border Terrier, Toy Poodle |
| Medium | 10.1-20kg | £175 |  Springer Spaniel, British Bulldog, Cocker Spaniel, Bedlington Terrier, Border Collie,  Tibetan Terrier, Beagle, Mini Poodle |
| Large | 20.1-34kg | £190 |  Standard Schnauzer, Afghan Hound, Boxer, Chow Chow, Dalmatian, Shar Pei, English Pointer, Standard Poodle, Labrador Retriever |
| X Large | 34.1-47kg | £200 |  Giant Schnauzer, Dobermann, Flat Coat Retriever, GSD, Golden Retriever, Greyhound, Giant Poodle, Rhodesian Ridgeback |
| Giant | 47.1kg+ | £220 |  St. Bernard, Newfoundland, Great Dane, Mastiff, Deerhound, Bloodhound, Bernese Mountain |
We also offer collection services from your home or vet, same day cremations and attended services, see our pet cremation prices page for more information.
Pet Memorials and Keepsakes
We offer a range of urns, caskets and scatter options for your pets ashes, but alongside this we give you a chance to create a totally unique memorial to them through a range of beautiful products. We still offer our extremely popular paw print jewellery, tribute heart urns and ashes photo frames but these are some of our favourite new products – please take a look at the full range of pet memorials online for more.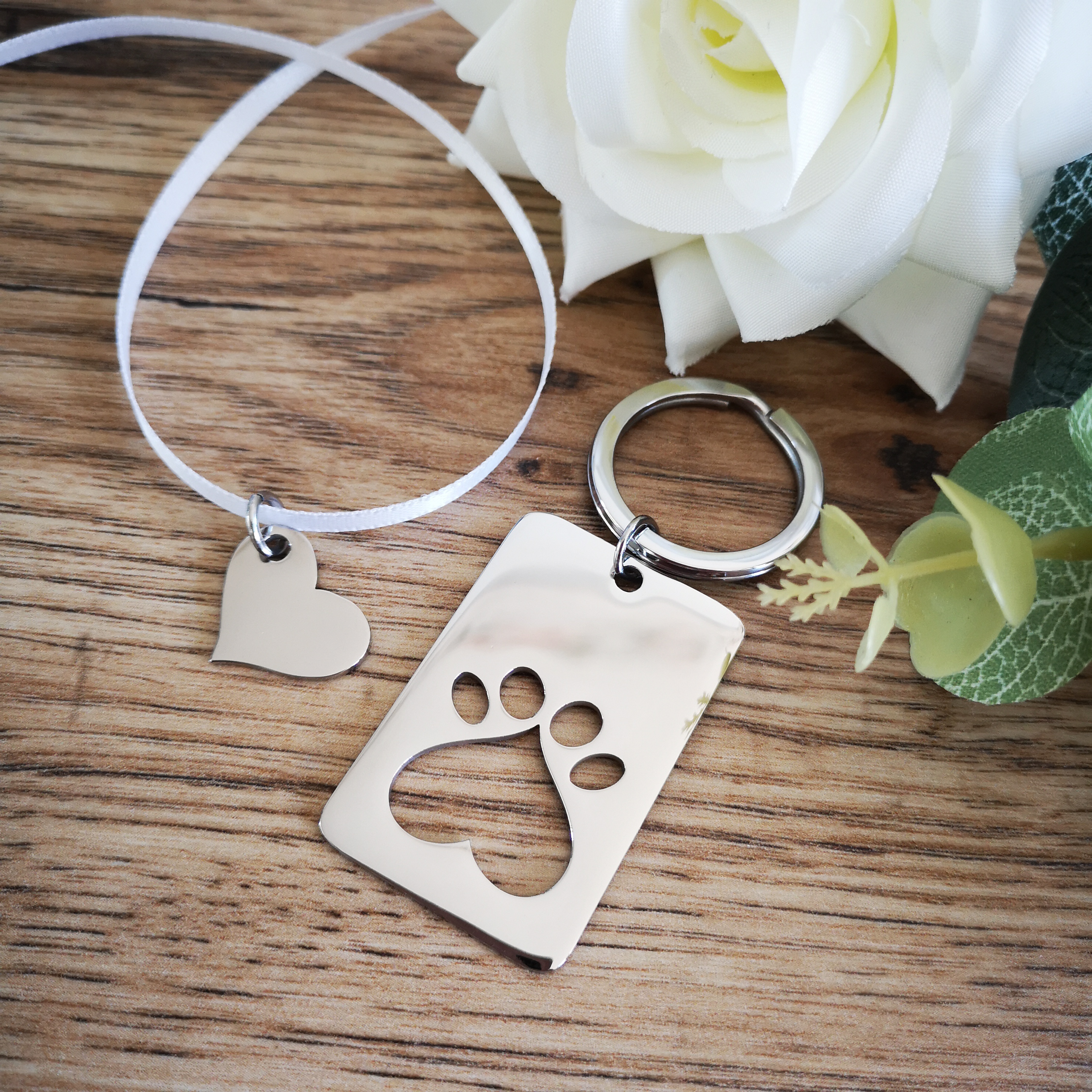 This key ring has a paw print cut-out design with a small heart shape that fits into the space. The paw print is designed to accompany your pet during the cremation process while the key ring goes home with you, creating a lasting connection. You can choose to personalise the key ring part with up to 2 lines of text such as a name and a date.
Alba Rose create stunning jewellery made using a small amount of your pet's ashes and beautiful Murano glass. You can choose from a range of earrings, pendants, rings and event charm beads for bracelets. From crystal framed hearts to stylish signet rings, this jewellery allows you to keep your pet close to you at all times.
This wonderful company can take your pet's bedding and turn it into an adorable soft toy in the shape of either a cat, dog or teddy bear. This is a great choice for both children and adults alike. A token amount of ashes can be stored in a small internal pouch if you wish.
If you would like to know more about the services and products available at Dignity please take a look at our brand new brochure or get in touch with a member of the team on 01252 844572.