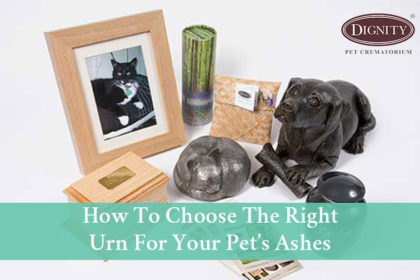 Whether you have had a long time with them or they were taken too soon, losing a pet is difficult.  You then have to make the decision what to do with their remains. If you decide you have your pet cremated there are many different options when it comes to what to do with their ashes. We're going to go through some of the choices available at Dignity and how to choose the right urn for pet ashes.
Choosing an urn for pet ashes
Selecting an urn or casket is a very personal choice, we've listed some of our more popular options below but if you need any help deciding our team is available to talk to you about them.
Before you look through the options available, think about what you want from the urn. If you want to display it in your home, opt for something you will enjoy looking at. If you'd like to create a natural tribute choose one of the eco-friendly choices.
Classic caskets
If you are looking for something traditional a wooden casket may be the option for you. These caskets are made from solid wood and available in a range of sizes. You can choose from light or dark wood, with the option to add end rings for a look similar to a traditional coffin.
We can also custom engrave a metal plate with your message which can be fixed to the top or side of the casket. For a more personal finish you can add a laser engraved plate which can feature a photograph of your pet.
See our range of caskets and engraved plates online here.
Scatter and burial options
For those wanting to scatter or bury their pet's ashes we offer several options. One of our most popular choices is the Scatter Tube, which is adorned with a peaceful bluebell woodland scene. The ashes are loose inside the tube, which can be either buried or used to scatter the ashes in a special spot.
Alternatively we have a Scatter Pouch which is made of a natural bamboo material. The ashes are placed into a biodegradable bag inside the pouch, which can also be buried or used for scattering.
See our range of scatter and burial options online here.
Metal Urns
Our metal urns are simple and elegant. The Polished Metal Urn has a traditional look and can be personalised with an engraved or laser-engraved plate. It's also available in a range of sizes.
If you want something a bit less formal we have Paw Print Urns available in a tall or rounded option.  These urns are made from brass and feature a paw print design with a screw on lid. You can also choose a Teardrop Paw Print Urn in black, brown or white colours.
See our range of metal urns online here.
Eco-friendly options
If you want to give your pet an eco-friendly send off we offer a range of products, including the Scatter Tube and Pouch mentioned above.
The Bio Urn is a round biodegradable vessel with a paw print design. Available in Salt (white) or Sand (brown) colours, these urns are made entirely from natural materials. They can be buried in the ground to return your pet's ashes to the earth, alternatively they are soluble for use in water.
For those who want a lasting reminder of their pet we recommend the Bio Tree Urn. This beautiful bright green capsule allows you to inter your pet's ashes in your garden or in a planter along with a seed that will eventually grow a tree.
Pet specific urns
Some people may prefer an option that provides an instant reminder of their pet, so we offer a range of pet specific urns.
For dog lovers we have the beautiful brass dog urns available in 15 different breeds. These urns have a hidden compartment to store your dog's ashes. You can add an engraved tag that's placed around the dogs neck on a simple ribbon. See our range of dog specific urns here.
Cat fans can choose from a range of feline-inspired urns including peaceful sleeping cat available in wood or metal. For a stylish look the Cat Sculpture Urn is available in black, brown or white. See the full range of cat specific urns online here.
For small pet owners we have urns designed to look like rabbits, guinea pigs and hamsters. These smaller urns are perfect for those who want a simple reminder of their pet to keep in the home. See our small animal urns online here.
These are just some of the casket and urn for pet ashes options we offer, we have many more styles available on our website. You can order these over the phone or at Dignity, or online for delivery anywhere in the UK.