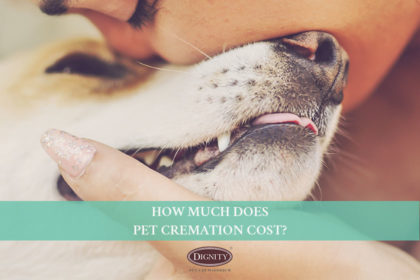 Losing a pet can be devastating, particularly if you view them as a member of the family as many of us do. So it makes sense that more of us than ever are looking for a personal way to say goodbye to our pets. A recent survey has found that over a third of people did not get the opportunity to have a funeral or ceremony for their pet even though they would have liked to. Sadly, a combination of grief and lack of knowledge often forces us into decisions that we regret – but we want to change that. At Dignity we want to be open and honest about pet cremation costs with our customers and get the conversation started early.
For those who want to be ultra-prepared we can help you spread the cost by setting up a pre-payment plan. Please get in touch to discuss this with a member of the Dignity team.
Pet Cremation Costs
We have, sadly, cremated all sorts of animals at Dignity – from a tiny gerbil to a Great Dane, and everything in between. No matter what type of pet you have we will care for them in the same dignified and compassionate way. We only carry out individual pet cremations at Dignity.
| Pet | Cost |
| --- | --- |
| Cat | £150 |
| Rabbit | £80-135 |
| Guinea Pig | £80 |
| Hamster | £70 |
| Chicken | £105 |
| Budgie | £70 |
| Parrot | £80 |
| Budgie | £70 |
| Chinchilla | £70 |
| Corn Snake | £75 |
| Ferret | £85 |
| Hedgehog | £75 |
| Lizard | £65 |
| Rat | £65 |
| Degu | £65 |
| Tortoise | £100-130 |
Cremation costs for dogs are based on their size, however we understand that not everyone will know the weight of their dog so we have also used The Kennel Club Breed Standards to give you an idea of which category your dog falls into.
| Size | Weight | Cost | Example Breed |
| --- | --- | --- | --- |
| Small | Up to 10kg |  £160 |  Mini Schnauzer, Bichon Frise, Jack Russell Terrier, West Highland White, Mini Dachshund, French Bulldog, Border Terrier, Toy Poodle |
| Medium | 10.1-20kg | £175 |  Springer Spaniel, British Bulldog, Cocker Spaniel, Bedlington Terrier, Border Collie,  Tibetan Terrier, Beagle, Mini Poodle |
| Large | 20.1-34kg | £190 |  Standard Schnauzer, Afghan Hound, Boxer, Chow Chow, Dalmatian, Shar Pei, English Pointer, Standard Poodle, Labrador Retriever |
| X Large | 34.1-47kg | £200 |  Giant Schnauzer, Dobermann, Flat Coat Retriever, GSD, Golden Retriever, Greyhound, Giant Poodle, Rhodesian Ridgeback |
| Giant | 47.1kg+ | £220 |  St. Bernard, Newfoundland, Great Dane, Mastiff, Deerhound, Bloodhound, Bernese Mountain |
These costs are for the individual cremation of your pet, you can personalise your service with additional cremation services, urns, caskets and keepsakes.
Additional Cremation Services
We offer a range of cremation services to ensure that we are offering a goodbye that suits you. If you are unable to bring your pet to us yourself we can collect them from the vets or your home. We can also return the ashes to you. These services are dependant on where we need to travel to so you will need to contact us for a quote.
Prior to your pet's cremation we will ask if you would like any fur clippings or paw print impressions taken from them. These act as lovely reminders but can also be used to create beautiful keepsakes or gifts in the future such as jewellery or artwork.
When it comes to the cremation service there are a couple of different options. The above costs cover the cremation of your pet, usually within 72 hours of you confirming we can go ahead. Our Same Day cremation service means that you can collect the ashes of your pet on the same day they were cremated. The cost for a Same Day Pet Cremation Service at Dignity is £40.
Our Attended cremation service combines the above Same Day offering with the opportunity to stay with your pet until the very end. You will be present as your pet is gently placed into the chamber. This cost for an Attended Pet Cremation Service at Dignity is £60.
For other services such as certificates for travel or insurance letters please find more information here.
Caskets & Urns
We have a wide range of caskets and urns available for you to choose from – whether you want a simple wooden casket to keep in the home or something more unusual like a photo frame with a hidden ashes section. You can see the full range of caskets and urns for pet ashes here. You can also choose from a range of scatter containers including tubes and bamboo pouches.
At Dignity we also offer lots of different products to help you remember your pet. From bespoke jewellery made using their unique paw print to memorial stones for the garden. You can view the full range of keepsakes and pet memorial products online here.
If you have any further questions about any of the services or products available at Dignity Pet Crematorium please get in touch with a member of our team by calling 01252 844572 or email enquiries@dignitypetcrem.co.uk.