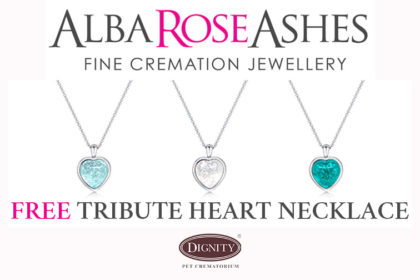 Having a memento or keepsake to remember your pet by can help you feel closer to them, particularly a piece of jewellery you can keep close at all times. This month Alba Rose are offering free Tribute Heart pendant necklaces with all orders over £250. All you need to do is spend over £250 on any Alba Rose Ashes jewellery before 31st January 2020 and we will gift you a complimentary Silver Tribute Heart pendant.
You can choose from 12 gemstone colours to customise your jewellery – the coloured 'stone' in the centre of the heart is made using a small amount of your pets ashes mixed with beautiful Murano glass. You can also include a short message to be engraved into your jewellery for an extra reminder of your pet.
Alba Rose Ashes say "the tribute pendant is the perfect symbol of love to remember your loved one who has passed. The heart represents everlasting love, a symbol worn to show that your love will only grow stronger day by day. The ashes are delicately suspended in beautiful Murano glass, and although subtle, the glass gem alone looks beautifully timeless."
This offer is only valid on orders placed in person at Dignity or over the telephone, not available on online orders. To qualify for this offer, orders must be paid in full before 31st January 2020. Please call 01252 844572 or email enquiries@dignitypetcrem.co.uk for more information.