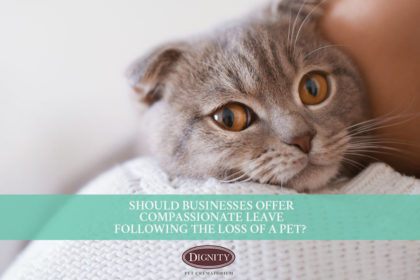 As a nation of pet lovers it's come as no surprise that a new survey has found that 50% of pet owning Brits want more companies to offer compassionate leave after the loss of a pet. Research conducted by pet website Wamiz.co.uk ahead of National Grief Awareness Week, which takes place from 2nd until 8th December 2019, confirms that there's still some stigma around taking time off following the death of a pet.
Much of this comes from a lack of understanding from those who do not own pets, and 70% of those who took the survey confirmed they find it more difficult to talk about their sense of loss with non-pet owners. We know that the pain does fade with time but for the pet owners surveyed, 65% of whom had lost their pet over a year ago, nearly half (44%) said they still found it extremely difficult to talk about their loss.
We've seen an increase in stories about pet loss and grief in the news recently, with both Sia and Lorde speaking about how the loss of their respective dogs has impacted their lives. Grazia recently featured a story about taking time off work following the loss of a pet, featuring this account from Caroline who recently lost her dog. "When I called into work I was sobbing so hard that they thought one of my children had died" she says.
"Initially they were sympathetic, but when I told them I needed to take two weeks off to grieve they were angry. I know they talked about it behind my back, and that they thought I was being dramatic. But Scooter [Caroline's dog] was my connection to my life before my children. I'd had him longer than my husband or my kids, and he was the only living being who had ever been there for me. I had grief counselling after he died, partially to try and cope with his death but also to process the shame associated with being so devastated by his loss. People thought I was being stupid, so I felt stupid. I realise now that you don't choose how you feel about death."
What are the rules surrounding compassionate leave for pet loss?
Currently there's no law or guidance for companies to follow when it comes to giving time off work for pet bereavement. So, is it time that businesses became a bit more understanding when it comes to the connection between us and our pets?
Carrie Ball, who has been working as a pet bereavement counsellor since 2001, certainly thinks so. "For a lot of people losing a pet is just as devastating if not more so than losing a relative. The loss of a pet affects us mentally and has an impact on our day to day lives. So it makes sense from a business point of view that someone who is grieving should be given time off. A loss is a loss no matter the species. If you are too upset to work and the grief is affecting your performance then from a business point of view it makes sense to allow that person time off to grieve. Pet loss is often seen as a lesser loss, and it shouldn't be."
Carrie raises a good point – not only does our performance suffer while we are grieving, but it has a profound impact on our mental wellbeing. This could cause lasting effects, something we're sure most businesses would not want for their employees.
How can pet cremation help with loss?
While some may not want to be reminded of their lost pet, 84% of those surveyed by Wamiz kept their pet's ashes at home and 85% kept a physical keepsake such as fur clipping, paw print or photograph in their home. By using our services you can choose to have such items prepared for you by a member of our team to give you something tangible to remember your pet by. We also offer a wide range of urns and keepsakes that help you create a memorial that's as unique as your beloved pet. Interestingly the research also found that over a third (38%) said that they would have liked a funeral or ceremony for their pet, so don't put off looking into what type of pet cremation you would like. We have found that it's always better to be prepared for these situations and knowing what your options are makes the whole process easier.
Wamiz's UK Country Manager, Emilie Heyl, says: "Brits clearly bring their dogs and cats into the family fold and have as deep an emotional attachment to them, as they have to other members of the family or to friends.  Whilst, in the past, the sense of loss following the passing of a pet may have gone unappreciated or ignored, at a time when mental health campaigners are urging us to talk through our emotions, or listen to others who are suffering mental health issues, it is vital that grieving pet owners can express their feelings at work and elsewhere.
"Other studies have shown 62% of owners say having a pet makes them feel happier and that 68% of older people feel better both mentally and physically when they live with a dog or cat.  If the companions that support happiness and wellbeing are suddenly no longer around, the negative impacts of loss could be significant."
At Dignity we deal with the negative impact of pet loss on a daily basis, so when one of our team is going through it themselves we try to be as understanding as possible. We offer time off for compassionate leave as well as support from our team who are trained in pet bereavement support.
We'd love to hear your thoughts on the subject, do you think more companies should be offering compassionate leave following the loss of a pet?